Its All About the Wine Grapes
There are about 5,000 varieties of wine grapes, give or take a few. The most obvious difference is the color, they is either white or red grape; beyond that, there are several other attributes of the grape that determine the final outcome of the wine.
Grapes vary in their level of acidity, texture, and aroma. The variety will dictate the flavor of the wine. The relative sweetness or acidity in the grape will strongly influence the final outcome.
So how do they differ from one another? Here are some of the best know grape varieties, and their attributes.
The Whites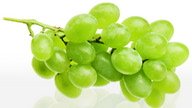 The most famous of the white wine grapes are:
Chardonnay, perhaps the best known of the white grapes. Grown all over the world, it has a strong fruit aroma, and it produces dry wines. The wines made from this grape are usually oaked; that is, it is either fermented in oak barrels or is give an oak treatment.
Sauvignon Blanc, very high in acidity, it has an aroma that can remind you of herbs or grass. The wines produced from this grape are dry and light to medium-bodied. In California the term Fumé Blanc is sometimes used instead of sauvignon blanc, but both wines are made from the same grape.
Riesling is a grape greatly associated with German wines. Again, this is high in acidity, but it turns out light-bodied wines that are anywhere from slightly sweet to quite dry.
Pinot Grigio or Pinot Gris is a low acidity grape that makes medium to full-bodied wines.
Other important white grape varieties include: the Sémillon, low in acidity; it is used most often in France and Australia, where they produce beautiful dry wines. Chenin Blanc, a grape that is high in acidity and has a strong fruity aroma; it was quite popular some years ago, but has lost ground to Chardonnay. Viognier, a rare grape, comes originally from the Rhone Valley in France, has low acidity and is quite fruity. Albariño, a grape from Spain with strong fruity aroma; it makes for a wonderfully refreshing wine. Muscat is a highly aromatic grape that is often used to produce sweet dessert wines, though it is sometimes made into dry wines. Gewürztraminer hails from the Alsace region of France; its aroma can remind you of flowers and fruits, but produces dry wines. Grüner Veltliner is a gift from Austria, it makes rich textured wines with a spicy flavor.
The Reds

The red wine grapes produce wonderful wines that have a distinctive tannin flavor; that slightly bitter taste that we often associate with walnuts.
The most important red grapes are: Cabernet Sauvignon. I would say that it is the counterpart to Chardonnay in the white grapes. Probably the most famous of the reds. These grapes produce full-bodied wines that are high in tannin.
Merlot grapes are low in tannin, and turn out wines that are low in alcohol content, and have a deep red color.
Pinot Noir, another famous grape that has become a favorite of consumers. It is a bit lighter in color than other red wines, with a strong fruity aroma. It is relatively low in tannin, and has relatively high acidity.
Syrah or Shiraz. It is high tannin grape from France that makes full-bodied wines. In Australia it is called Shiraz, while the rest of the world calls it Syrah. Nebbiolo grape comes from the north of Italy, the Piedemont region. It is highly acidic and is also high in tannin.
Tempranillo, a Spanish grape that produces wines low in acid and not very high in alcohol level.
Sangiovese is another Italian grape, grown in the Tuscany region. The wines made from it have high tannin and acidity level. It has a fruity aroma. Other red wine grapes include the Grenache, produces fruity and high alcohol wines. The Cabernet Franc, usually blended with other grapes; it is relatively low in tannin. Gamay makes wines that can be low in tannin. Barbera is an Italian grape that is low in tannin and turns out crisp and refreshing wines. Aglianico is another Italian grape that is high in tannin.
Back to Home Page from Wine Grapes