Cooking with Wine, Always Use Your Best Ingredients
When cooking with wine, we are often tempted to use whatever we have around. Why not use the half opened bottle that has been sitting in our counter since Christmas? even if it is now October. But if you are using high quality ingredients to prepare your meal, don't forget that wine is also one of your cooking ingredients. You would not use spoiled eggs in your dish, why use spoiled wine? (Ok, Ok, using spoiled eggs is a health hazard, but you get my drift)
It is often said by good cooks that you should never use a wine in cooking that you would not drink by itself. The reason is that the flavor of the wine will intensify in the cooking process.
Here are a few dos and don'ts to remember when cooking with wine:
Do use a good wine as a cooking ingredient. It doesn't have to be a one hundred dollar bottle of wine, but it should be an affordable version that you would drink with pleasure
Do add wine a few minutes before the end of the cooking process, maybe about ten minutes before the dish is fully cooked. This will ensure that the flavor of the wine comes through.
Do use wine to deglaze the cooking pan. This will add depth to the finished dish.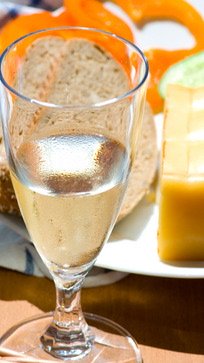 Don't use oxidized or spoiled wine, your dish will taste like the wine.
Don't use sweet wines, unless the dish you are preparing is a dessert. The wine will be reduced in the cooking process, and the end result will be sweeter than you intended. Of course, if that is what you want, go for it.
Don't use types of wine in your dish that you would not pair the dish with. If you are taking great care in your food and wine pairing, don't spoil the effect by using a wine as a cooking ingredient that would not match well with the other ingredients and the end result. Cooking, like winemaking, is an art and a science. Experiment, but keep in mind how ingredients interact with one another.
For example, tomatoes tend to be quite acid, very often a tomato sauce benefits from a bit of sugar or fat in order to tame the acidity. Use the same concepts when you include wine as an ingredient.
If you love authentic Italian pasta, why not use up a little leftover red wine to make my friend Matt's sumptuous Meat With Pasta Sauce ? This ragu-esque dish comes direct from the pages of his excellent Pasta Recipes Made Easy site
If you enjoy watching cooking shows
Here you will find video demonstrations about cooking with red wine.
And then click here to view demontrations about cooking with white wine
For Company or Comfort, Squash Risotto
A recipe for Lavender Salad Dressing
Here you will find a recipe fro Grilled Flank Seak in Wine Sauce
Welcome fall with Pumpkin-Ham Soup
Here you will find recipes for your Christmas Dinner
And a recipe for a New Year's Day Luncheon with family and friends.
If you are expecting a crowd, Paella is the perfect recipe.
If you are in a hurry, Pasta with Clams is your choice.
For Valentine's Day try Linguine With Scallops
A Well Loved Recipe, Lobster Bisque
Impress Your Guests, Spicy Shrimp with Pasta
Clams With Wine And Shallot Sauce. Great For A Party
But Above All, Be Creative When Cooking With Wine.
Back to Home Page from Cooking with Wine