Wine Quotes to Make you Think and Smile!
I love quotes of all kinds, and wine quotes in particular. I love their wit and wisdom. And I find that they add to my enjoyment of wine.
Some of these wine quotes will make you reflect, hopefully some will make you laugh!
"Come, come, good wine is a good familiar creature if it be well used; exclaim no more against it."
William Shakespeare
"Men are like wine, some turn to vinegar, but the best improve with age."
Pope John XXIII (1881-1963)Roman Catholic leader, head of the church.
"If you see in your wine the reflection of a person not in your range of vision, don't drink it."
Chinese Proverb
"Fish, to taste good, must swim three times: in water, in butter, and in wine."
Polish Proverb
"Drink wine, and you will sleep well. Sleep, and you will not sin. Avoid sin, and you will be saved. Ergo, drink wine and be saved."
Medieval German Saying
"Wine is a living liquid containing no preservatives. Its life cycle comprises youth, maturity, old age, and death. When not treated with reasonable respect it will sicken and die."
Julia Child
"At the shrine of friendship never say die, let the wine of friendship never run dry."
Victor Hugo
"Nothing would be more tiresome than eating and drinking if God had not made them a pleasure as well as a necessity."
Francois-Marie Arouet Voltaire (1694-1778) French philosopher, writer
"Wine can of their wits the wise beguile, Make the sage frolic, and the serious smile."
Homer
"For a bad night, a mattress of wine."
Spanish Proverb

"Come quickly! I am tasting stars!" Dom Perignon (1638-1714) at his first sip of champagne
A few wine quotes about Champagne
"My only regret in life is that I did not drink more Champagne."
John Maynard Keynes
"In victory, you deserve champagne, in defeat, you need it."
Napoleon
"Gentlemen, in the little moment that remains to us between the crisis and the catastrophe, we may as well drink a glass of Champagne."
Paul Claudel
"Oh, champagne gives me a headache."
Alice in Author! Author! (1982)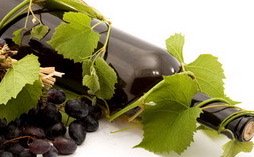 "Wine is bottled poetry". Robert Louis Stevenson
A German wine label is one of the things life's too short for, a daunting testimony to that peculiar nation's love of detail and organization.
Kingsley Amis Everyday Drinking
Wine gives great pleasure; and every pleasure is of itself a good. It is a good, unless counterbalanced by evil.
Samuel Johnson Boswell's Life of Johnson
Wine gives us liberty, love takes it away.Wine makes us princes, love makes us beggars.
Wycherly The Country Life
Wine ... cheereth God and man.
Judges, 9:13
A man cannot make him laugh - but that's no marvel; he drinks no wine.
William Shakespeare Henry IV Part 2
Good wine ruins the purse; bad wine ruins the stomach
Spanish Saying
The best use of bad wine is to drive away poor relations.
French Proverb
What though youth gave love and roses age still leaves us friends and wine.
Thomas Moore
I am falser than vows made in wine.
William Shakespeare 1564 - 1616 As You Like It [1599 - 1600], act III, sc. v, l. 73
Wine that maketh glad the heart of man. The Book of Psalms, 104:15
Con pan y vino se anda el camino [With bread and wine you can walk your road].
Anonymous: Spanish Proverb
A thousand cups of wine do not suffice when true friends meet, but half a sentence is too much when there is no meeting of minds.
Chinese Proverb
"Despair is vinegar from the wine of hope."
Austin O'Malley
"Ah. Fortune smiles. Another day of wine and roses. Or, in your case, beer and pizza!"
Two-Face in Batman Forever (1995)
Cheese, wine, and a friend must be old to be good.
Cuban Proverb
What grape to keep its place in the sun, taught our ancestors to make wine?
Cyril Connolly (1903 - 1974)
I only drink fortified wines during bad weather. Snowstorm, hurricane, tornado--I'm not particular, as long as it's bad. After all, any storm for a Port.
Paul S. Winalski
Strategy is buying a bottle of fine wine when you take a lady out for dinner. Tactics is getting her to drink it.
Frank Muir
Wine comes in at the mouth
And love comes in at the eye;
That's all we shall know for truth
Before we grow old and die.
William Butler Yeats (1865–1939), Irish poet, playwright. "A Drinking Song."
Amuzing wine quotes
These wine quotes will make you chuckle
"Wine improves with age. The older I get, the better I like it."
Anonymous
How is education supposed to make me feel smarter? Besides, every time I learn something new, it pushes some old stuff out of my brain. Remember when I took that home winemaking course, and I forgot how to drive?
Matt Groening (1954 - ), The Simpsons
"I never drink wine."
Count Dracula in Dracula (1931)
Wine Quotes for your Wine Education. Enjoy!
Return to Wine Education from Wine Quotes
Back to Home Page from Wine Quotes