October 2008 Wine Recommendations; Great Flavors, Great Prices!
The October 2008 wine recommendations are here. Wonderful flavors at great prices. Wine lovers of the world unite and play the "wine notes" game; see if you detect these flavor notes, plus others not mentioned here.
Types Of White Wine Follow Here:
Bodegas Val de Vid Verdejo Rueda Condesa Eylo 2007 With notes of apples and a lemony acidity. Score of 88, $14.00 USD. Spain
Albert Mann Auxerrois Alsace Viellies Vignes 2006 With notes of lemon, honey, and a bit earthy. Score of 87, $19.00 USD. France
Alamos Chardonnay Mendoza 2007 With hints of apple and butter. Score of 84, $10.00 USD. Argentina.
Mills Reef Sauvignon Blanc Hawke's Bay Reserve 2007 With notes of grapefruit and mango. Score of 89, $15.00 USD. New Zealand.
Columbia Crest Chardonnay Horse Heaven Hills H3 2006. With hints of spices and citrus. Score of 91, $15.00. Washington State.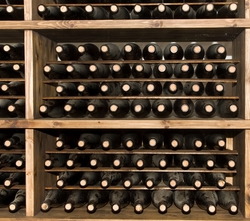 Here Come The Reds:
The following types of red wine won't break the bank.
Santa Lucia Maremma Toscana Losco 2006 With notes of black currant and plums. Score of 86, $15.00 USD. Italy.
Fortediga Maremma Toscana 2006. With hints currant and flowers. Score of 90, $19.00. Italy.
Bodegas Sucesores de Manuel Piquer Garnacha Cariñena Lelia 2006. Notes of berry of cherries. Score of 85, $9.00 USD. Spain.
Poggio Molina Toscana Lo Scopaio 2005. A blend of Cabernet Franc, Merlot, and Sangiovese, fruity. Score of 88, $19.00. Italy.
Yalumba Cabernet Sauvignon South Australia the Y Series 2007. With notes of herbs and cherry. Score of 87, $14.00. Australia.
Your Value Wine Guide for the Month of October 2008.
Back to Wine Recommendations from Recommendations for October 2008
Back to Home Page from Wine Recommendations for October 2008