The Wine Regions of Australia, New Zealand, and South Africa are Hot
The wine regions of the Southern Hemisphere are some of the most interesting newcomers to the winemaking scene. These areas, along with those of the United States and Latin America (Chile and Argentina being in the Southern Hemisphere, of course), are less tradition bound and more innovative. They differ in winemaking techniques, as well as philosophy.
In these areas, perhaps because the weather provides more consistency, the wine grape is queen, rather than the terroir or technique.
Australia is not new to winemaking. But it is relatively new at producing top wines. For much of its history the country made cheap wines for local consumption.
In the 1960s wine producers began to change their focus, and the quality of their wines. Today Australia's wines are giving their better known brethren around the world a run for their money.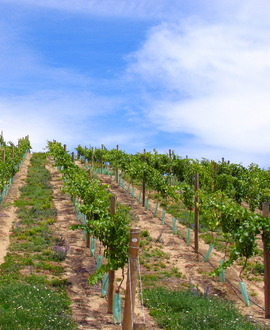 Australians have made one grape their own. The Shiraz, known in the rest of the world as Syrah, is the signature grape; which they often blend with Cabernet Sauvignon. They also make Cabernet Sauvignons and Merlots.
By no means are reds the only wines of Australia. White wines such as Chardonnay, Riesling, and Sémillon are also produced, as well as some fortified wines such as Muscat and Tokay.
The main wine regions of Australia are: South Australia near the city of Adelaide. This area includes Adelaide Hills, Barossa Valley, Clare Valley, McLaren Vale among others. The area turns out both red and white wines.
New South Wales is second only to South Australia in wine production. Hunter Valley makes wonderful Chardonnays as well as Sémillons, even though the weather is hot and humid. Mudgee, less rainy, produces excellent Cabernet Sauvignon.
Victoria turns out Muscats and Tokays, as well as Shiraz and Cabernet Sauvignon.
Western Australia and the areas of Margaret River, Swan Valley, and the Great Southern produce Chardonnaly, Sauvignon Blanc, and have been planting some Verdelho grapes. The region also is known for Cabernet Sauvignon and Shiraz.
New Zealand is an isolated land in the middle of the South Pacific. It is composed of two main Islands; North Island and South Island (quite self-explanatory), plus many smaller islands.
Though grapes were planted in the 1800s, its wasn't until the 1980s that wine production started in a serious manner.
New Zealand is best known for its white wines, particularly Sauvignon Blanc. These wines have acquired a reputation for their fresh crisp flavor. Other white wine grapes grown are Chardonnay, Riesling, and Pinot Gris.
New Zealand also plants red wine grapes, in particular Pinot Noir, Cabernet Sauvignon, and Merlot.
Its main wine producing regions are in : the areas around the city of Auckland, Gisborne, and Hawke's Bay. They make mostly white wine grapes but also some reds.
In the area of Wairarapa/Martinborough they have had great success with Pinot Noir.

South Island and the areas of Nelson, Marlborough, Canterbury, and Central Otago on the south produce mostly white wine grapes; but also some reds such as Pinot Noir.
South Africa
When we think of South Africa we think of diamonds and gold, not wine; yet, it has been made here since the 1600s, when the Dutch arrived with their vines. But the serious focus on wine did not start until the 1980s.
Most of South Africa's wine regions are in the south, near Cape Town. The areas of Constantia, Stellenbosch, Paarl, Franschhoek Valley; and Klein Karoo and Mossel Bay towards the east.
South Africa turns out mostly white wines; Chardonnay, Sauvignon Blanc, Riesling. But there is also new attention being given to reds such as Shiraz, Cabernet Sauvignon, and Pinotage which is a unique South African crossing of Pinot Noir and Cinsaut grapes.
Make a Point of Exploring the Wine Regions of the Southern Hemisphere!
Back to Wines of the World from Regions of the Southern Hemisphere
Back to Home Page from Wine Regions of the Southern Hemisphere