The Wine Regions of Spain and Portugal
The wine regions of Spain and Portugal are bound in tradition. The two countries are neighbors; for that reason some of their wines share similarities, they both produce famous fortified wines. But they have their distinctions.
After several years of being almost ignored by the rest of the world, Spanish wines , in particular, are again attracting the attention of wine lovers.

The wine regions of Spain include: Rioja , located in the North-central part of Spain. It produces mostly red wines, though also some rosés and whites. The main grape used in the region is the Tempranillo grape, but they also use Grenache (Garnacha), Graciano (Carignan), and Mazuelo grapes.
The Ribera del Duero a region around the Duero river, turns out mostly red wines from the Tempranillo grape, though they also use some Cabernet Sauvignon. Penedés in the region of Catalonia, is best known for its sparkling wines. Called Cava, they are made in the same way as French Champagne. The area also produces still wines.
Jeréz is famous for its fortified wine, also know as Sherry. The level of alcohol of these wines ranges between 15 and 22 percent; and their flavors from very dry to very sweet.
The Wine Regions of Portugal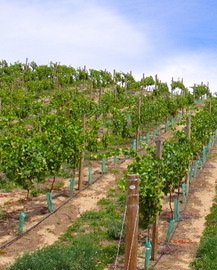 Portugal's winemaking claim to fame is Oporto, or Port, and Madeira wines.
Oporto, or Port, is so prized in Britain that we often think of it as the English gentleman's drink of choice. It is produced in the region near the Duoro river ( the Duero when it starts in Spain ). It is made in many different styles, and this can be very confusing. There are white ports, Ruby ports, Tawny ports ( both young and aged), and Vintage ports to name a few. Port is a wine blended from different varieties of grape.
Madeira is a fortified wine from the island of Madeira, a few hundred miles from Morocco in North Africa. Part of the process is to heat the wine to about 105ºF for three to six months. Madeira comes in various degrees of quality, much of it so so. But there are Madeiras of the very fines quality. these wines are heated naturally; in the hot attics of the producers' warehouses.
As with port, there are various styles of Madeira. Sercial is the driest, Verdelho is medium dry, Bual is a medium-rich style of Madeira. Malmsey is the richest and sweetest of them all.
Portugal also makes table wines. Whites from the Alvarihno, Encruzado, Gouveio, and other grapes. Reds from the Alfrocheiro Preto, Bastardo, Jaén, and others.

The Wine Regions of Spain and Portugal are Worth Your Attention
Back to Wines of the World from Regions of Spain and Portugal
Back to Home Page from Wine Regions of Spain and Portugal