Flank Steak With Red Wine Sauce
Serves 8
2 lbs. Flank Steak
3 Tablespoons Soy Sauce
1 teaspoon Sage
Black Pepper To taste
Red Wine Sauce
3/4 Cup Pinot Noir wine
1/2 Cup Butter
1 1/3 Cups Shallots, chopped
2 Tablespoons Fresh Parsley, chopped
Salt To taste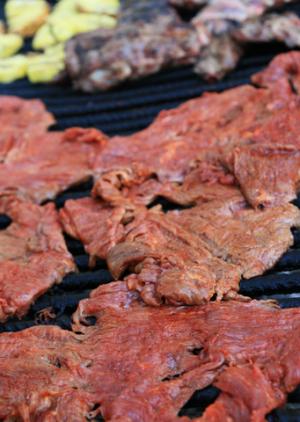 Steak
In a small bowl, mix together soy sauce, sage, and pepper. Brush the steak on both sides with the mixture. Let stand covered in the refrigerator for about one hour.
Sauce
In a saucepan, heat the butter and add the shallots. Saute for a few minutes, until shallots are transparent. Add the wine and whisk butter and wine together. Simmer for 3 minutes. Add parsley, remove from heat and keep warm.
Grilling
Prepare the grill at high heat. Grill flank steak until medium-rare. It will take about 5 minutes on each side.
After removing the steak from grill, let stand about 5 minutes so that the juices redistribute. Slice meat cross grain; cut thin slices.
Serve mean with wine sauce. Accompany it with a green salad, grilled corn, and a glass of Pinot Noir.
Cooking With Wine For Summer Fun!
Return to Cooking With Wine From Beef with Wine Sauce
Return to Home Page From Cooking With Wine Recipes Beef with Wine Sauce