Cooking With Wine Recipes For The New Year
Cooking with wine recipes are always festive and versatile. None are as yummy and restorative after a night of partying as Bouillabaisse. This is a dish that is easy to prepare, and the ingredients are not absolutely set. Any kind of fish and seafood can be used.
If you can't find mussels, use clams, better yet, use both if they are available. You prefer octopus to squid, go ahead, make the change. Recipes are seldom as adaptable as preparing this delicious fish soup is.
The wine used in this dish is a nice sherry from Spain, rather than other types of white wine, but you may substitute it if you like.
Bouillabaisse
Serves 12
4 cloves Garlic, crushed
1 cup Celery, chopped
1 cup Onion, chopped
1 cup Red Bell Peppers, chopped; or a combination of red and green peppers
1/2 cup Olive Oil
3 Bay Leaves
1 Tbsp Dried Oregano
1/2 cup Fresh Parsley, chopped
1 tsp Crushed Red Peppers
8 oz Clam Juice
48 oz. Canned Tomatoes, chopped
4 cups Water
1 cup Spanish Sherry
1 lb. Shrimp, cleaned
1 lb. White Fish Fillets, cut into pieces
1 lb. Crab Legs
12 Clams, scrubbed
12 Mussels, scrubbed
1 lb. Squid, cleaned and cut into 1" rings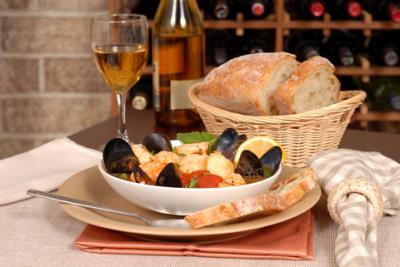 In a large pot sauté in olive oil the garlic, onion, celery, and red peppers until tender. Add spices and tomatoes. Simmer for 45 minutes. Add clam juice, water, and sherry and simmer for another 10 minutes. Add fish and shrimp; simmer for about 3 minutes. Add mussels, squid, clams, and crab legs and simmer until clams and mussels open.
You may substitute any type of seafood that is available, and that you love.
Serve with warm crusty bread.
Invite your friend for a New Years luncheon and show off how your cooking skills. This recipe is easy and tasty.
Celebrate the New Year With Friends And Family
Return to Cooking With Wine from Cooking With Wine Recipes
Return to Home Page from Cooking With Wine Recipes