Cooking With Wine Recipes To Feed A Crowd
If you are on the hunt for cooking with wine recipes that will feed a crowd, and will delight everyone, Paella is your choice.
It is a very versatile dish. And the fact that you can always substitute ingredients, within reason, this recipe is sure to become one of your favorites.
It seems that there are as many versions of paella as there are cooks that have ever made it. You will love this version.
Add this to your Cooking With Wine Recipes!
Paella a la Valenciana
Serves 6 to 8
Ingredients
8 Clams
8 Mussels
1/3 cup White Wine
5 Tbs. Olive Oil
1 Onion, chopped
2 Garlic Cloves, chopped
2-21/2 lbs. Chicken cut in pieces
2 Tomatoes, peeled and chopped
1/2 lb. Spanish Ham, but into strips
1 1/2 cups Short Grain Rice
3 1/2 cups Chicken Stock
1/2 cup Fresh Peas, may substitute frozen
1/2 cup Fresh Green Beans, may substitute frozen
1/2 cup Red Bell Peppers, cut in strips
1 can Artichoke Hearts
1/2 lb. Shrimp, uncooked
Pinch of Saffron
Salt and Pepper to taste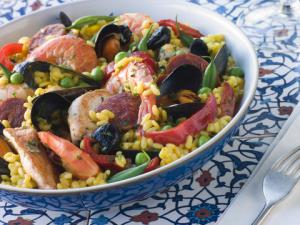 Steam clams and mussels in white wine until shells open. Reserve liquid, and set aside. Brown chicken in 2 Tbs. of olive oil, and set aside. Saute chopped onions, chopped garlic until transparent. Add tomatoes, ham, salt and pepper to taste. Return chicken to pan and simmer for 10 minutes. In another pan fry rice in remaining olive oil until rice begins to toast. Add all these ingredients to a
If the paella pan is metal, you may use it on the stove top, but if the pan is earthenware, it should not be used on top of the stove, use only it in the oven. paella pan.
Heat chicken stock and infuse the saffron. Add the reserved liquid from the clams and mussels. Pour over chicken and rice mixture, steer and simmer for about 15 minutes.
Arrange shrimp, clams, and mussels over the top, and garnish with strips of pimiento and cooked artichoke hearts. Cook in moderately hot oven for about 15 minutes. Liquid should be absorbed; you can add more during cooking if necessary.
Paella, Your New Favorite Cooking With Wine Recipe
Return to Cooking With wine From Cooking With Wine Recipes, Paella
Return to Home Page from Cooking With Wine, Paella