Another In the Series Of Cooking With Wine Recipes
I know that you are loving this cooking with wine recipes because you have told me so. Here is another one that is simple and wonderful for company. It is spicy and lively, and you can cook it in record time.
Spicy Shrimp With Pasta
2 lbs Shrimp, cleaned, deveined
8 oz Spanish Chorizo
3 Tbsp. Olive Oil
1/2 small Onion, diced
1 med Jalapeño pepper, thinly sliced
1 Yellow bell pepper, diced
2 med Tomatoes, diced
1 hand full Basil leaves, chopped
2/3 cup Dry White Wine
1 lb Pasta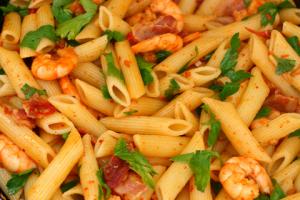 In a large saucepan put water to boil. Boil pasta until al dente. Drain and set aside. In a large fry pan heat olive oil over high heat. Add Spanish chorizo, onions, yellow bell pepper, and jalapeño. Cook for about 3 minutes. Add wine and cook another minute or so. You can use any of the various types of white wine. Add shrimp and cook until they turn pink. Add tomatoes and basil, mix with cooked pasta and serve immediately.
Serve with salad and crusty bread. Pair with your favorite Sauvignon Blanc.
Add This Recipe to Your List Of Favorites
Return to Cooking With Wine from Spicy Shrimp
Return to Home Page from Cooking With Wine Recipes Spicy Shrimp
Google Analytics html