Cooking With Wine Recipes, Here Is One For Your Romantic Celebration
Cooking with wine recipes are festive. They are great for any celebration, but for a dinner with your sweetheart you want something that is easy and romantic.
You certainly don't want to spend all day in the kitchen! And you also don't want to spend a fortune. Though the recipe calls for scallops, the amount needed is not so large that it will break the bank. So try this easy recipe for that perfect dinner for two.
Linguine With Scallops and Anchovies.
3 Tbsp. Olive Oil
2 cloves Thinly Sliced Garlic
4 oz. Bottled Clam Juice
4 oz. White Wine
8 oz. Large Scallops
3 Anchovies Minced
8 oz. Linguine, Cooked al dente
3 Tbsp. Italian Parsley, chopped
Salt To Taste
Pepper To Taste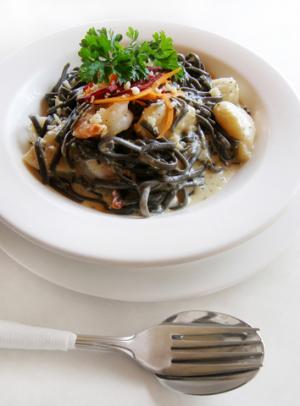 In a medium saucepan, heat 2 tablespoons of olive oil. Add the garlic and sauté until slightly brown. Add the clam juice and wine. You can use any of the various types of white wine that you like. Simmer for about 10 minutes, add salt and pepper to taste.
In another pan heat the remaining oil over high heat. Add the scallops and cook until they are slightly browned, add the anchovies and cook another minute or so.
Add the linguine and the clam juice/wine mixture. Toss until heated thoroughly. Transfer to a serving platter and garnish with chopped Italian parsley.
Pair with your favorite Chardonnay
This Will Be One of Your Favorite Recipes!
Return to Cooking With Wine from Cooking With Wine Recipes for Valentine's Day
Return to Home Page from Cooking With Wine for Valentine's Day