Home Wine Making Equipment. Where To Start?
All right, you are super exited as you are about to make homemade wine, but what about home wine making equipment? What do you need? Where to start?
When you start your home made wine adventure, the equipment you will need can be divided into three basic categories:
1. crushing and pressing equipment.
2. testing equipment.
3. storing and aging.
Some of the equipment is expensive, and it is best to rent it each year; other equipment you will probably want to own it, as you will be using it throughout the winemaking process.
The first piece of equipment that you will need is a grape crusher and presser. It can be rented from your local brew shop. This piece of equipment is a bit expensive, and you will only use it at the very beginning of the process.
You will also need containers. Food grade plastic trash cans and pails, glass carboys, and wine bottles.
You will need to measure and test your wine along the way. For this you will need gram scales, thermometers, acid test kits, and hydrometer and test cylinders.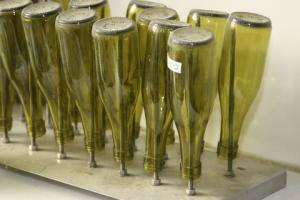 Here is a list for you:
1. Grape crusher and press.
2. Food grade drum or garbage can.
3. Carboys, glass. The number depends on the amount of wine. If you are making 5 gallons of wine, you will need at least two 5- gallon carboys.
4. Food grade plastic pails, at least two.
5. Siphon tube for racking wine. 4 to 6 feet of clear vinyl tubing with a nylon clamp.
6. Racking wand.
7. Plastic wine thief.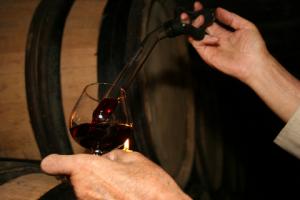 8. Fermentation locks. One for each carboy.
9. Stoppers for each fermentation lock, # 7 and 6 1/2.
10. Hydrometer and test cylinder.
11. Floating thermometer.
12. Gram scale that measures at 0.5 gram increments or less.
13. Acid test kit
14. Carboy brush for scrubbing.
15. Wine bottles.
16. Corks.
17. Wine rack (optional).
Take this list with you when you go shopping. You can find everything at your local brew shop or on the internet. Sometimes you can find kits that sell the basic equipment at a considerable discount.
Enjoy Using Your Home Wine Making Equipment
Return to Home Made Wine from Home Wine Making Equipment
Return to Home Page from Wine Making Equipment