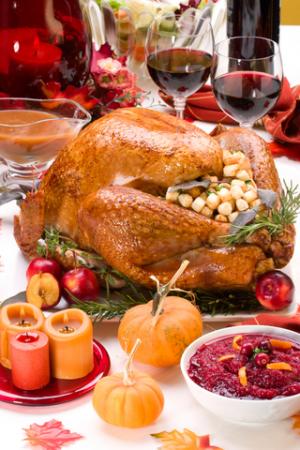 Thanksgiving menu usually calls for so many different types of dishes, that it really can be mind boggling. All right, turkey is the star, and it is rather neutral; but the side dishes range from sweet dishes such as sweet potatoes, tart dishes such as cranberry sauce, to somewhat bitter dishes such as chard or collard greens, to stuffing with sweet and spicy ingredients...you get the message.
How do we handle it all? There are a couple of ways to go.
The absolute best way to simplify your life is to serve one wine that compliments everything. My choice is always Champagne or a sparkling wine. This is the kind of wine that really does go with everything. It likes turkey, it compliments bitter greens, it goes so well with sweet dishes and dessert, it loves stuffing. Not to mention the fact that it tickles your mouth and makes you giggle. Is there anything not to like?
Alright, you want to be a little more creative, and not everyone likes to be tickled. If this is the case, you will want to have at least one white and one red, maybe two of each.
As far as white wine, a Riesling is always excellent. It is very versatile, pairs very well with the Turkey, and it will also compliment spicy foods as well as sweet ones. A Chardonnay with mineral notes compliments any root vegetable that you might encounter.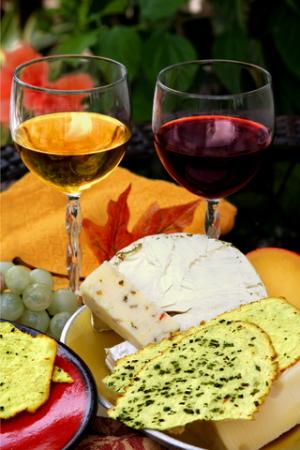 What about red wines? Pinot Noir will nicely complement the earthy flavors of the stuffing. For spicy foods, a Zinfandel will be great, and it will even go well with sweet potatoes and other dishes that are on the sweet side. Another good choice is Beaujolais; this is a wine that is great for pairing with food, and also for drinking by itself.
Every family has its own traditions and "must have" dishes. And very often the Thanksgiving dinner is potluck, with guests bringing their own dishes and or wine.
I think you will be on the safe side if you have a Riesling and a Pinot Noir. If your pocketbook allows it, you can add a Chardonnay and/or Sauvignon Blanc, a Zinfandel and/or a Beaujolais.
If you decide to have these many choices, and the dinner is informal and lots of people coming and ging, just let each guest experiment and enjoy; providing a little guidance, of course.
Perhaps you can have little notes that say "Riesling loves Turkey" or "Collard Greens and Zinfandel are an item" or "Pinot Noir has found its perfect Stuffing" or "Sherry is sweet on Pecan Pie". This way you will amuse and educate at the same time.
In the end it will depend on how adventurous you want to be. But here I have given you some ideas that will help you decide what will be best for your special celebration.
Enjoy and relax!
Wine Pairing for Thanksgiving, Make Your Meal Shine!
Return to Food And Wine Pairing from Wine Pairing for Thanksgiving
Return to Home Page from Wine Pairing for Thanksgiving.