With The New Year Enjoy Wine Recommendations for January 2010!
With the New Year come wine recommendations for January 2010. As always we are looking for wonderful wines at wonderful prices. We have found ten for you, so enjoy a new start and toast the coming year.
As faithful readers know, our mission at KeepWineSimple.com is to find wine bargains. We are not looking for cheap wines at low prices. We want awesome wines at excellent prices. This is the perfect time for our search. People are more price conscious, and wineries seem to be in a mood to please. Prices have dropped while quality has not; all to wine lovers' delight.
Enjoy these stars while they are still within the reach of our modest wallets!
The Whites
Brancott Sauvignon Blanc Marlborough Reserve 2008. A superb wine with notes of herbs, peach, goosberry, and minerals. Score of 92, $17.00 USD. New Zealand.
Yalumba Viognier Eden Valley 2008. Spicy notes of pineapple, pear, and citrus. Score of 92, $18.00 USD. Australia.
Barnard Griffin Riesling Columbia Valley 2008 A yummy wine, fresh and light with notes of citrus, peach and flowers. Score of 90, $10.00 USD. Washington State.
Chehalem Pinot Gris Willamette Valley 3 Vineyard 2008. Creamy and light. Notes of citrus and melon. Score of 90, $18.00 USD. Oregon.
Bethel Heights Pinot Blanc Eola-Amity Hills 2008. Wonderful notes of peach, pear, and citrus. Score of 90, $17.00 USD. Oregon.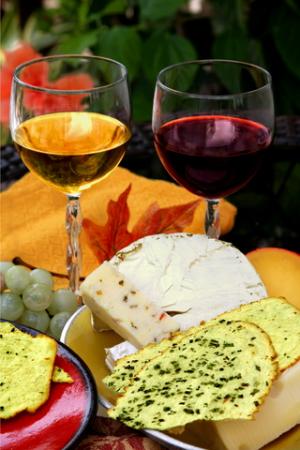 The Reds
Shoofly Shiraz Adelaide 2007. Notes of plumb, cherry,and cinnamon. Score of 91, $15.00 USD. Australia.
Monte Antico Sangiovese-Merlot_Cabernet Sauvignon Toscana 2006. Full-bodied and bright. Notes of cherry, plum, and berries. Score of 90. $14.00 USD. Italy
Bodegas Bilbainas Tempranillo Rioja Viña Saco 2006 If you love chocolate and black cherry, this wine is for you. The tannins are well balanced by acidity. Score of 90, $15.00 USD. Spain.
Clos La Coutales Cahors 2007. Complex and yummy. Notes of tobacco, black cherry, and chocolate. Depth and elegance. Score of 90, $15.00 USD. France.
Bernard Baudry Chinon Les Granges 2007. Mmmm, so gorgeous; notes of cherry, fig, and chocolate. Score of 90, $ 15.00 USD. France.
Toast The New Year With Wine Recommendations For January 2010
Return to Wine Recommendations from January 2010 Return to Homepage from Wine Recommendations for January 2010