Ah, wine recommendations for May 2011 lure us into a summer state of mind. Though we are still a few weeks away from the official start of summer, our mind is already there. May means Mothers' Day, it means warm evenings with friends, and it means the end of a long hard winter.
Enjoy these wines at your spring barbecues and sunday brunches, as you eagerly await the promise of the warm months to come!
The Whites
Columbia Chardonnay Columbia Valley 2008. Refreshing notes of citrus, apples, and spices. Score of 87, $11.00 USD. Washington State.
Handley Riesling Mendocino County 2008. Yummy notes of stone fruit and melons, a deliciously crisp wine! Score of 87, $17.00 USD. California
Mphua Sauvignon Blanc Marlborough 2010. Notes of tropical fruits, citrus, and flowers. Crisp yet smooth. You'll really like this one! Score of 88, $13.00 USD> New Zealand.
Viu Manent Chardonnay Casa Blanca Valley Reserva 2010. Notes of apples, citrus, and melons. Score 87, $13.00 USD. Chile.
Domaine La Croix Belle Grenache-Viognier Cotes de Thongue Le Champ des Lys 2009. Spicy and fruity. Notes of apples, pears and citrus. Score of 89, $13.00 USD. France.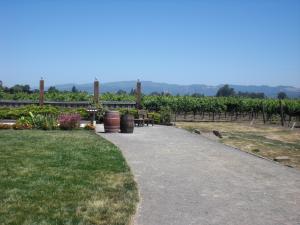 The Reds
Castle Rock Syrah Columbia Valley 2008. Juicy and zesty. Notes of berries and orange peel. Score of 88, $11.00 USD. Washington State.
Buehler Zinfandel Napa valley 2009. A lovely wine. Notes of herbs and berries, with a touch of vanilla. Score of 91, $18.00 USD. California .
Casa Gireli Montepulciano d'Abruzzo La Borgata 2007. Notes of berries, and black cherries. It reminds me of the violets in my garden! Such a nice wine, great price too. Score of 87, $10.00 USD. Italy
La Vinsobraise Vinsobres Sélection Vieilles Vignes 2008. Notes of plums and cherries with a bit of anise. Score of 88, $15.00. France.
Viña Santa Carolina Cabernet Sauvignon Maipo Valley Reserva de Familia 2008. What a Cab should be! Notes esspresso, plum, fig, and tobacco. Dark and intriguing. Score of 89, $17.00 Chile.
Enjoy Spring With Wine Recommendations For May 2011!
Return to Wine Recommendations from May 2011
Go to Home Page from Wine Recommendations for May 2011