Wine recommendations for July 2011 come straight from the Iberian Peninsula . Spain and Portugal have wine traditions that stretch deep into their history and DNA. Their wines are fantastic, yet live in the shadows of its mighty neighbor to the north (that would be France!) or to other European countries such as Italy and Germany. If you think of European red wines, you think France. If you think European whites, you think Germany. But why? I don't know, but I do know that you will find some wonderful Spanish and Portuguese whites, not to mention their reds.
So let's raise our collective glasses to Iberia. Salud!
The Whites
Bodegas Muga Rioja White 2010. Notes of Pineapple, vanilla, and melon. Tangy and yummy. Score of 88, $16.00 USD. Spain.
Bouza Do Rei Albariño Rias Baixas Lagar 2010 Almonds and pears are the prominent notes of this nice white. Throw in a bit of honey and minerals and you have a well balanced wine that works well with a meal or on its own. Score of 89, $15.00 USD. Spain.
Viña Mein Ribeiro 2008 Notes of citrus, honeysuckle, and herbs; a perfect light wine for summer months. Score of 88, $17.00 USD. Spain.
Jorge Ordoñez & Co. Flowers and citrus! Works for me! Fresh and tangy lime on the palate, plus the scent of orange blossoms, will nudge your senses. Score of 87, $18.00 USD. Spain.
Adega Condes de Albarei Albariño Rias Baixas Pazo Serantellos 2009. Crisp notes of mango with a bit of pear. So Nice! Score of 88, $10.00 USD. Spain.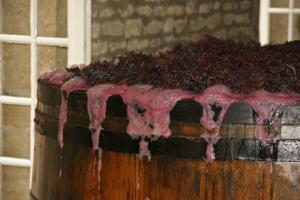 The Reds
Volver La Mancha 2008. This wine packs a punch of cherries, anise, and coffee. Score of 88, $16.00 USD. Spain.
Bodegas Berberana Rioja Viña Alarde Reserva 2006 Spice and tobacco, cherry and vanilla. Complex but smooth. You'll be glad you tried this one. Score of 88, $15.00 USD. Spain.
Caves Aliança Dao Reserva 2008 Rich notes of black cherry, chocolate, and raspberry. Score of 88, $11.00 USD. Portugal.
Bodegas Balbas Ribera del Duero Barrica 2009. Notes of cherry and berries. Score of 88, $14.00 USD. Spain.
Boas Quitas Dao Vinhas 2009. Berries and plumb, with a bit of smoke. Very nice. Score of 87, $9.00 USD. Portugal.
Salud to Iberia With Wine Recommendations For July 2011!
Return to Wine Recommendations from July 2011
Go to Home Page from Wine Recommendations for July 2011